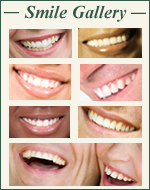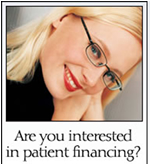 For Our Patients
Patient Forms | Insurance | Sterilization Protocol | Financial Investment
Sterilization Protocol:
To insure your safety, all procedures at our office exceed even the most stringent guidelines established by the Center for Disease Control (CDC) and the Occupational Safety and Health Agency (OSHA).
All instruments and handpieces are steam autoclaved after every use and disposable items are utilized wherever appropriate.
Patients and staff wear protective safety glasses during treatment.
Disposable gloves are worn while treating patients and are never used on more than one patient.
Staff members wear masks during the procedures to protect our patients.
All areas that are touched during the procedures are covered with a plastic wrap and changed after each patient so as to eliminate the potential of cross contamination.
All surfaces, chairs, lights and units are thoroughly disinfected before and after every patient use.
Our staff members undergo extensive training in sterilization procedures and participate in continuing education courses to keep up-to-date on the most advanced techniques in the industry.
Financial Investment:
We appreciate the emotional and financial investment required to proceed with comprehensive dentistry. During your consultation, Dr. Caggiano will review your treatment plan with you and other available treatment options. Our office will complete the forms required by your insurance company for your reimbursement so you can utilize your insurance benefits.
We accept MasterCard, Visa, American Express, and Discover.
Our Patient Forms are available for you to download below:
To view the below forms, you must have the FREE Adobe PDF Reader on your computer.
Insurance:
Dr. Caggiano will never allow insurance to dictate treatment. Regardless of your insurance status, she will provide you the most comprehensive care possible with the highest quality materials and most advanced techniques.
For patients who have insurance, our staff is highly trained in maximizing insurance plan benefits on your behalf and keeping your "out of pocket" expenses minimized.
Monica is an expert on insurance. If you have dental insurance and have questions, she is happy to explain your benefits to you.